Hello my dear bookish lovers and welcome to today's edition of Spinning The Yarn, which is going to be all about Harry Potter.
I'll admit, I started getting back in the habit of knitting and crochet because of a pattern inspired by Luna Lovegood, that I'll get back to in a little bit. So I thought I'd start this feature with the most obvious choice, because who doesn't want more Harry Potter nerdy stuff in their life? So without further ado, let's get started!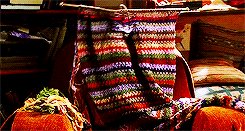 Let's start with the
wearables
okay?
The first pattern I have is the pattern I mentioned before, as well as in the introduction post to this feature, it's
Melissa's Luna Lovegood Scarf
. I learned how to crochet because of this pattern, I loved the scarf so much! I loved it so much in fact, that I made two: one blue, one violet. Unfortunately, the violet one is being sneaky and it's hiding from me, so I couldn't take a proper photo of it, but
you can see it here
if you want to. However, the blue one wasn't camera-shy, so here is my pretty:
There are a ton of
scarf patterns
, both for crochet and knitting, over on Ravelry, but aside from the previous one, here are the ones I love most:
The first one is a gorgeous double knit scarf by Karen Pritchard. It is such a pretty design and once I figure out how double knitting works I'm making one. Or two. Maybe three? One for every house?

Pottermore did tell me I'm both Ravenclaw and Hufflepuff so I might make a Ravenpuff one too? I'm a weirdo

The second one is a Fair Isle scarf inspired by Hermione's scarf in the Half Blood Prince movie, made by Marian a.k.a Freshisle. And because she's awesome and super creative, she also made matching mittens. I'm not a mitten person, but damn am I tempted to make a pair.
Now that we have nice scarves, I feel like
pretty sweaters
should be next. There aren't that many free patterns on Ravelry, but the ones I found are super pretty.
This Harry Potter Uniform Sweater by Katie Marcus is super cute and I am very excited to make one if only I can figure out how to knit a proper-looking sweater and not a wearable blanket. If you want to be even nerdier, you can pair this pattern up with the Alphabet Chart shared by Mandy Chronister and make your own version of the Weasley sweater.
Next there's this work of art by Joannie Newsome, inspired by the sweater Neville wore in the Deathly Hallows part two. I know this technically isn't from the books, but I just had to include it. Looking at it, I can only imagine the type of work it goes not only into knitting it, but also in actually creating the pattern and the chart. And get this, there are two charts that she shared, for two slightly different versions. *mind blown*
If you have a little wizard or witch of your own, you could also make this very pretty cardigan inspired by Ginny Weasley's cardigan from the Goblet of Fire made by Jacquelyn Jeffries. Let me tell you, I may not have a tiny human in my life, but I'd make this cardigan for myself, because it looks so pretty. Also I have a thing for knitted cardigans.
Next up we have
socks
. I recently learned how to knit socks (YAY!! Huge accomplishment, guys! *the crowd goes wild*) and I see a lot of sock knitting in my future. Because my feet get cold and I need cute socks! Now, there are a lot of Harry Potter inspired sock patterns out there, both free and paid, so I won't share too many sock patterns with you. Just the ones I desperately want to make
(which is all of them omg hide!)
If these aren't the prettiest socks you've ever seen, I don't know what to say. And I am very excited to make these, especially the Ravenclaw ones because it's my house and I need to wear it proudly. And yeah, okay, I may make some Hufflepuff ones too. Also I need more socks.
(let's face it, Dumbledore was right, one can never have too many socks!)
I didn't realize how many HP-inspired patterns I love, so I'll have to split this edition of Spinning the Yarn into two parts. Just as a sneak peek, part two will include probably more socks, some beanies and other cool stuff every witch and wizard needs. And, okay, even muggles.
Until next week, Happy Reading!
What to you guys think? Would you start knitting or crocheting something inspired by your favorite book/movie?